Among the many plant-based milk options available, soy milk is one of the most consumed vegan milk alternatives. However, homemade soy milk is preferred to store-bought ones for several reasons. First, you have control over the sugar content of your milk, and most importantly, there are no harmful additives and preservatives present. As a favorite of many consumers, there are special appliances dedicated to extracting milk.
What is Soy Milk Maker?
A soy milk maker is a portable kitchen appliance that grinds, boils, and filters to extract milk from soya beans. Because the manual process of extracting soymilk from soya beans is stressful, a soy milk maker simplifies the process and eliminates mess. In addition, you can use most soy milk makers to make other plant-based milk from nuts, seeds, beans, etc.
How to use a Soy Milk Maker?
Like other plant-based milk makers, a soy maker is straightforward to use. Most soy milk maker comes with a preset function that allows you to control temperature and grind with a button. To use;
Plugin the power cord to a power outlet.
Open the soy milk maker and add the presoaked soya beans and water.
Cover the soy milk maker and set the appropriate controls.
Leave the appliance to grind the beans, boil them and automatically filter off the pulp.
Pour out the milk and serve.
Health Benefits of Soy Milk
A great source of protein: Soya milk is high in plant protein which lowers the bad cholesterol present in the body and promotes heart health. It also contains all nine essential amino acids required to form new proteins in the body.
A great source of calcium and iron: Soya milk is rich in calcium needed for stronger bones and the prevention of osteoporosis. It is also rich in iron and useful in the oxygenation of the red blood vessels.
Rich in omega-3 fatty acids: Soya milk is rich in omega-3 fatty acids, a healthy fat that the body cannot synthesize.
Helps to aid weight loss: Soya milk has a low sugar content and high fiber content which helps in promoting weight loss when consumed over regular dairy milk.
Suitable for lactose intolerant people
It is high in vitamins and other minerals.
Best Soy Milk Maker Reviews
As someone who loves to make soy at home, I tried and researched many products. After this research, I identified the best products and I am sharing them with you below. Product features and reviews were the defining elements of my review list.
You can also have look at my Best Nut Milk Maker list.
SoyaJoy G4+ Soy Milk Maker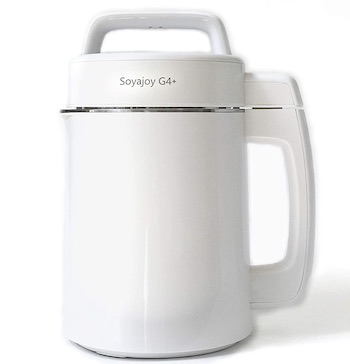 The SoyaJoy G4+ is a reasonably priced model with a compact design and modern looks. The best feature of this model is the temperature and water level sensors. The temperature sensors determine the water content of the beans to know if it is raw, dried, or soaked. Based on the state, it helps prepare the beans at the required temperatures and ensures that nutrient is not lost to excessive cooking.
Also, the water sensor ensures that the beans and water are in the required ratio for the best consistency. The 1.7-liter milk maker features a bottom heating technology that keeps the milk hot before serving. It is made with stainless steel that attests to its durability and safety.
It has a filter-free design that saves time and allows for easy cleaning.
It has automatic control functions.
It has advanced temperature and water level sensors for perfect cooking.
Tribest Soyabella SB-130 Soy Milk Maker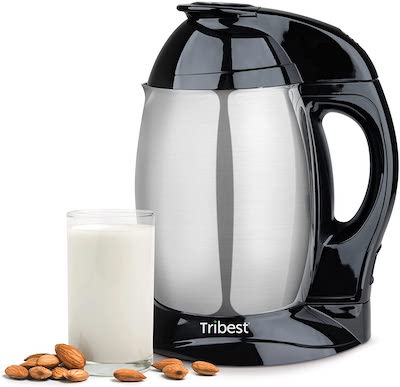 In under 15 minutes, you can make soy milk with the Tribest Soyabella and get the value for your money. The milk maker has advanced safety features that prevent overflow, overheating, and dry heating. In other words, you can expect less mess, an extended life span, and optimal performance.
The milk maker has a temperature control feature that ensures you yield excellent results each time. With its concealed heating element, you can prepare your soy milk without the risk of an accident occurring. While it may not look great as some other models, it can make soy milk and grind coffee for you fast and efficiently.
It is easy to clean and maintain.
It has sharp serrated blades that you can use to grind coffee beans.
It is handy and easy to operate.
Joyoung DJ13U-P10 Superfine Soy Milk Maker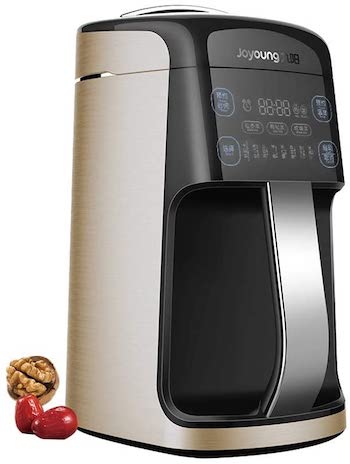 This Joyoung model comes with an impressive design that will look beautiful on your countertop. It works brilliantly with dried and soaked beans and can also prepare soups, smoothies, and fruit juice. In addition, the warming feature present in the machine ensures that you don't drink cold milk.
This model also features a preset timer of 3-11 hours and temperature control for easy use. The soy milk maker is made with the best materials and food-grade stainless steel. Unlike other soy milk makers, it is a high-capacity machine that does not require a built-in filter system.
It is a 1.3-liter multifunctional soy milk maker with a good design.
It is a six-blade powerful grinding machine that leaves no residue.
It features eight functions and a temperature regulator.
Simple Living Deluxe Soy Milk Maker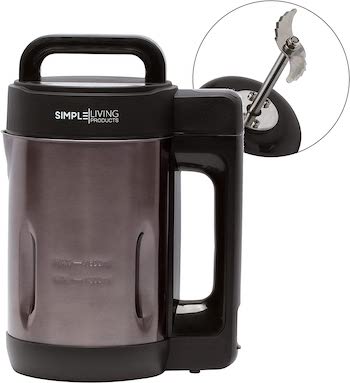 The simple living soy milk maker is a 4-in-1 machine that works as a juicer, blender, soup, and soy milk maker. In just 20 minutes, this 1.6-liter machine makes soy milk that can serve up to four people. In addition, its double-layered stainless steel offers heat insulation for your milk and soups.
The simple living soy milk maker has a sleek design with a fingerprint-resistant body. This means that no matter how long it is exposed to touch, it does not leave behind traces of human prints. In addition, its motor makes little noise compared to other products.
It works efficiently and can serve as a blender also.
It has a 1.6-liter capacity.
It has four preset programs.
Idavee PrestoPure IAE15 Automatic Hot Soy Milk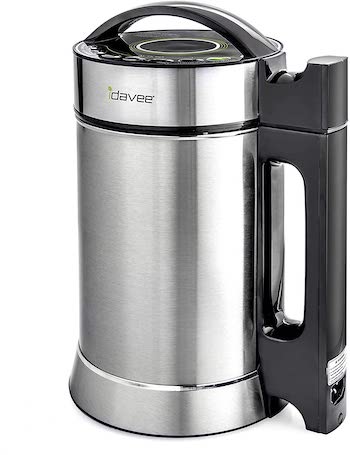 The PrestoPure soy milk maker features a 7-in-1 function suitable for making a variety of nuts, beans, and seed milk. In addition, its filterless grinding design ensures ease of cleaning, and the bottom heating system prevents heat dissipation and promotes even cooking.
The most outstanding feature of this product is its 1.9-liter holding capacity. This is enough to serve a whole family. In addition, its dual-layer food-grade stainless steel prevents burning and adds to its durability.
It has two-layered stainless steel.
Its 7-in-1 function works for a wide variety of ingredients.
It is easy to clean and maintain
Joyoung DJ10U-K1 Multi-functional Soy Milk Maker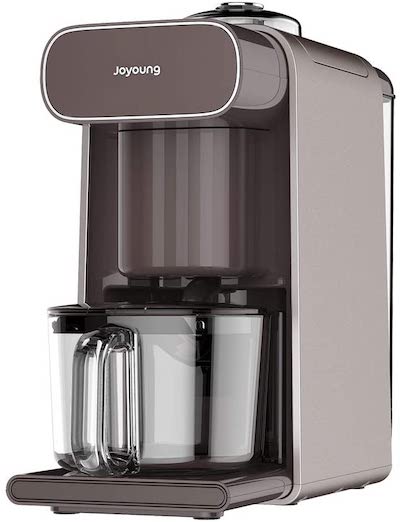 If you are looking for the best quality soy maker to serve you for a long, consider the Joyoung DJ10U-K1 soymilk maker. As the name implies, it is a multifunctional 4-in-1 machine that can serve as a coffee maker, a juicer, an electric water kettle, and a soymilk maker.
With its preset buttons and high-quality build and aesthetic look, it has features that stand out and ensure you get value for your money. For example, its high-performance motor prevents overheating and eliminates the need for a filter system. It also has preset functions from 3-12 hours busy people can maximize.
It has an auto-cleaning system.
It is durable and easy to use, especially on a commercial basis.
It has a preset function and serves multipurpose functions.
Tayama DJ-15SS Soy Milk Maker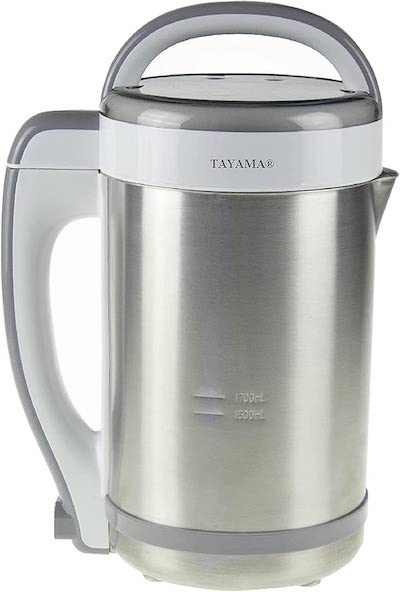 With a fully automated system, the Tayama soy milk maker comes to the rescue. It has six control functions that enable you to make soymilk and soups, porridge, and pastes in less than 25 minutes. In addition, this milk maker preheats, grinds, and cooks soya beans while ensuring it stays warm after the processing.
Its updated 3D system ensures even heat distribution while its thermos plastic covering prevents heat loss. In addition, it is high-quality food-grade stainless steel and x-blade for efficient grinding into a smooth paste.
It has six control functions to choose from.
It has a 1.1-liter capacity.
Fully automated processes.
SoyaJoy G5 Soy Milk Maker
The Soyaajoy G5 is an upgrade and a newer SoyaJoy soy milk maker model. With seven automatic functions, you can make a large batch of soymilk, soups, nut milk, and hot cocoa on the go. Furthermore, you can select if your beans are raw or no-cook to ensure that nutrient is preserved during cooking.
The water level and dual boil-over sensors control the temperature and monitor the water level for the best milk consistency. Its plastic covering ensures insulation, prevents heat loss and minimizes noise.
It has a reheating function that serves your milk hot.
It has a capacity of 1.6 liters.
It has a LED display that shows the cooking time and process.
Joyoung CTS-2038 Hot Soy Milk Maker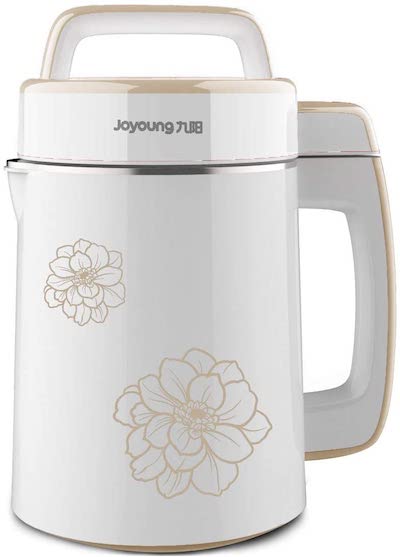 The Joyoung soy milk maker can also prepare soymilk, rice, almond, and several nut milk to a maximum of 1.7 liters. It has an ultra-fine grinding technology that ensures that all grains are finely crushed and boiled to produce highly nutritious milk.
The milk maker is fully automated and features a filter-less design to aid easy cleaning. As a result, your soy milk will be ready in just 25 minutes, whether dried or soaked. But, first, you have to set the function and allow the machine to perform its magic.
It is made with a high-quality stainless steel interior and a plastic covering.
It is filterless and easy to clean.
It has a large capacity of 1.7 liters.
Soyapower G4 Soy Milk Maker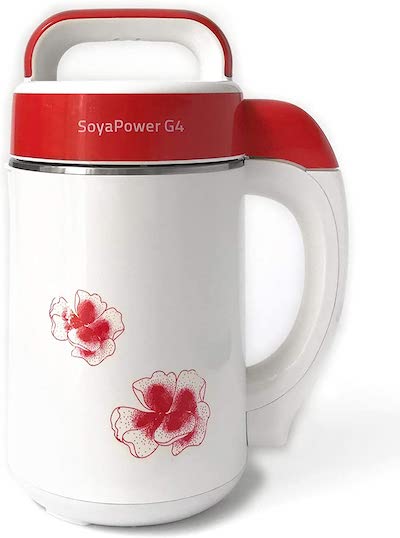 The Soyapower soy milk maker is a portable kitchen appliance with eight built-in functions. It can make a variety of beverages, including almond milk, soups, hot chocolate, etc. the 1.3-liter soy milk maker uses advanced sensors to make the cooking process a delight.
The interior is made purely of stainless steel, while the exterior is made from insulating, stain-resistant plastic material. In addition, cleaning is less time-consuming and more accessible because the appliance uses a filter-less design model.
It features a bottom heating technology.
It helps the liquid retain heat even after a long period.
It has eight automated computerized functions.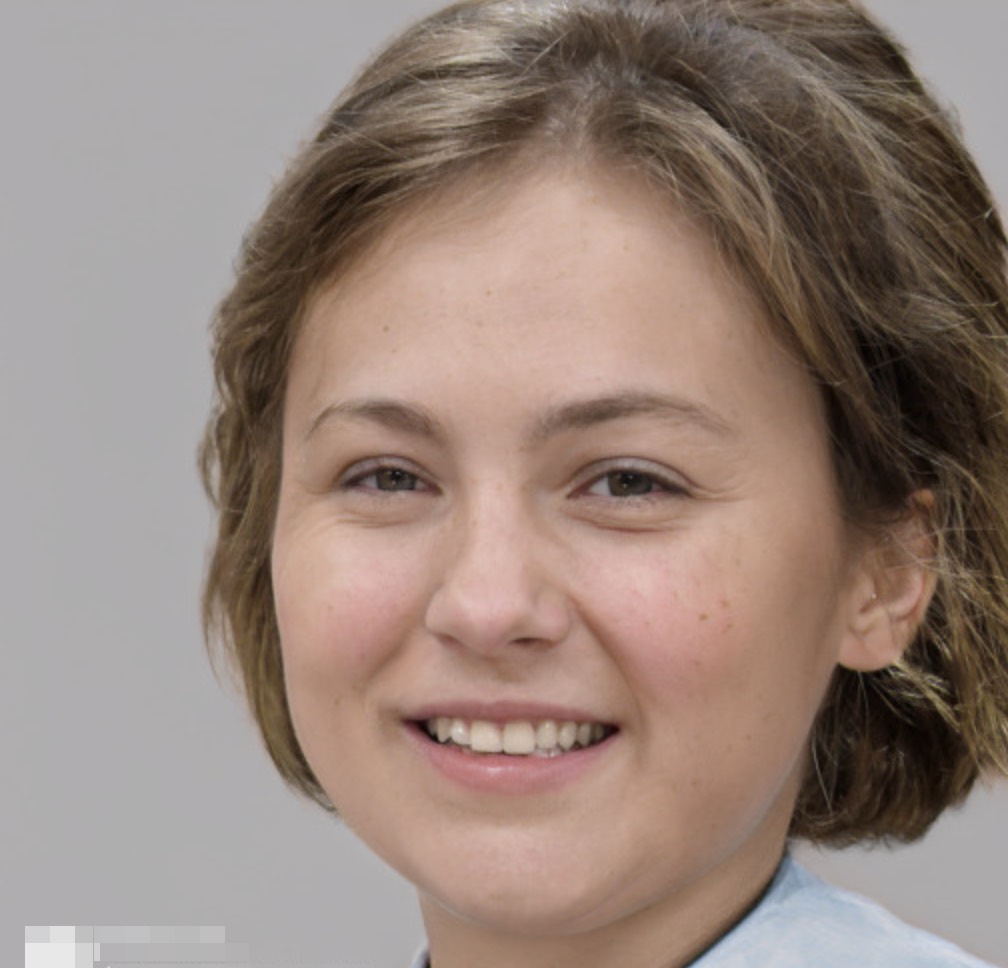 Hi, I'm Jen from New Mexico. I have been working from home as a graphic designer for a long time. While working at home, I realized that I enjoy spending time in the kitchen. The kitchen is my biggest hobby. I set up this site to relay the products and experiences I've tried. I review many kitchen equipment and share them with you!