When you step into a chef's kitchen, you will find numerous kitchen equipment, including a collection of knives. However, the meat cleaver is difficult to miss among all the utensils you will typically find because it stands out.
What is a Meat Cleaver?
A meat cleaver is a knife with a large rectangular-shaped blade designed for hacking through bones. Meat cleavers are often associated with heavy-duty butcher work like cutting dense meat, bones, joints, and cartilage. Apart from beef, they help scale fish and cut dense fruits and vegetables like pineapple and cabbage.
How Do I Choose the Right Cleaver?
There are several options of meat cleavers available in the market, and each product has its unique characteristics, benefit, and price. Without prior information, you can feel overwhelmed and select the wrong product.
With that being said, here are some factors to look out for while selecting a meat cleaver.
The blade width: It is imperative to select a blade that has a thick width. Thick blades can withstand pressure and repeated use compared to thin blades that tend to chirp or wear out faster.
The blade material: A blade forged with high carbon stainless steel is an ideal choice for heavy-duty cutting. For an added advantage, ensure that the edge is tapered as it helps to mitigate fast wearing out.
The blade handles: The material used for the handle and its design is perhaps one of the most crucial factors. Choose a cleaver with an ergonomic handle that offers a firm and non-slip grip. It would be best if you also remembered that plastic and wooden handles might break or wear out faster than steel ones.
Weight: The weight of the meat cleaver is also vital because heavier blades can tire the hands and cause fatigue. On the other hand, an overly light blade will require additional pressure to cut through successfully. Find a good balance here.
Price: You want to get the best meat cleaver without going beyond the budget.
What Meat Do You Cut With a Cleaver?
A meat cleaver is typically used to cut whole meat, especially those containing bone in them. Other parts of beef a meat cleaver can handle effectively are the joints, muscles, and cartilage. It is also employed in cutting chicken, scaling fish, and any animal part. Additionally, meat cleavers effectively cut through thick fruits and vegetables like watermelon, pineapples, cabbage, etc.
Best Meat Cleavers of 2023
As mentioned earlier, several meat cleaver brands are available in the market. To help our readers make an informed decision, we carried out tons of research and listed ten of the best meat cleaver brands.
Dalstrong 9-inch Obliterator Meat Cleaver Gladiator Series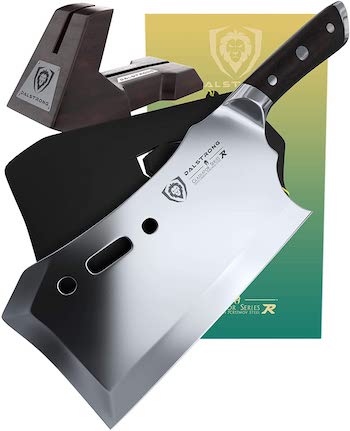 The Dalstrong 9-inch meat cleaver is undoubtedly one of the best heavy-duty meat cleavers. With a combination of technology and quality craftsmanship, this 2.9 pounds cleaver earns its status as an obliterator knife. It is forged from premium high carbon steel and heat-treated to 60HRC to maintain the perfect cutting edge.
Furthermore, the 6mm blades are tapered and hand-polished with a satin finish for increased durability and less resistance when cutting. Apart from the impressive design of the blade, the handle also stands out. It was built with a black military-grade G10 handle for the perfect grip and durability. The meat cleaver comes with an acacia wood stand and a sheath.
It is made with premium material to ensure its durability.
It has a 9-inch blade which is larger than most.
It comes with a stand and sheath.
Zwilling Pro 6-inch Meat Cleaver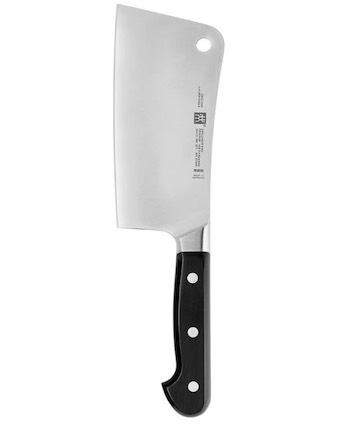 The Zwilling meat cleaver is an impressive knife that combines advanced technology and premium materials. It has an advanced blade design with the perfect geometry and strength suitable for slicing through bones, cartilage, and joints. It is forged from a single billet of ice-hardened stainless steel, which ensures it has a sharp cutting edge and avoids bucking and chirping the knife.
The wedge-shaped blade has a sharp cutting edge sharpened with cutting-edge laser technology ground to fifteen degrees on each side. Additionally, it features a triple-riveted bolster grip that affords you firm control and prevents fatigue when cutting tough parts.
It has advanced strength and geometry.
It has a resilient performance and is built to last.
It has an ergonomic handle that makes cutting less tiring.
Global Meat Cleaver

The 6.5-inch Global meat cleaver is an excellent choice that provides a consistently smooth cut and clean chopping action with minimal resistance. Unlike the typical beveled edge found on the western knife, the Global meat cleaver has a hand-ground straight edge to a steep point of 150 on each side. This helps the blade to stay sharp for an extended period.
The Global meat cleaver is entirely constructed with stainless steel. Unlike the other three riveted handle knives, this meat cleaver has a stainless steel handle with an impressive dimple design. It features a bolstered design for ergonomic comfort, while the dimples provide a firm grip. In addition, it is lightly weighted for balance, agility, and fatigue-free use.
It has a sharp, cutting edge
The handle has a unique design.
It is safe and has a slip-free grip.
Henckels 6 inch Meat Cleaver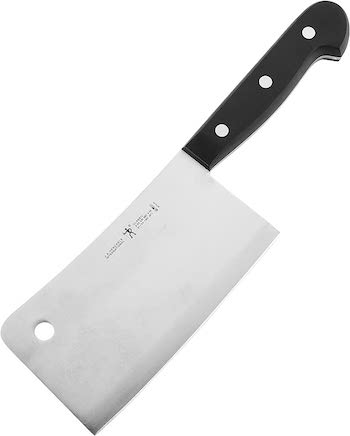 The Henckels 6-inch meat cleaver is perfect for a large bone and tough task. It is forged from high-quality German stainless steel, ensuring its resilience and durability. Furthermore, the blade is finished off with satin to ensure it stays sharp and cuts precisely.
The Henckels meat cleaver features a triple-riveted handle surrounding a full tang. It is ergonomic and easy to carry for an extended period. In addition, this meat cleaver can be stored by hanging with the hole in the top right corner.
It is forged with high-quality stain-resistant carbon.
It is dishwasher friendly.
It is suitable for heavy-duty use.
Zelite Infinity Cleaver Knife
The Zelite cleaver knife is the perfect meat cleaver choice thanks to its premium carbon steel construction, razor-sharp edge, and budget-friendly price. It is a 7-inch blade forged from German high carbon steel that provides rugged performance and excellent rust, corrosion, and stain resistance. In addition, the rugged blade can chop through bones, joints, and even coconut, striking the perfect balance between sharpness and resilience.
The blade is hand-polished with a satin finish to reduce drag and cut resistance for the smooth and efficient cutting action. It also features uniquely rounded stainless steel with a tapered bolster for a professional pinch grip.
It has a sharp 7-inch blade.
Rugged performance.
It features a unique tapered bolster and a professional pinch grip.
Dexter-Russell 8 inch Stainless Heavy Duty Cleaver

The Dexter-Russell meat cleaver is a heavy-duty knife constructed to cut through the most rigid bones. The blade is built with the proprietary Dexsteel steel, a stain-resistant high carbon blend with a 54-56HRC rating for resilience performance. It is sturdy enough for repeated contact with hard material without bending or breaking and, at the same time, easy to sharpen.
Each knife is ground and honed for a durable cutting edge. The handle is made of polished Rosewood and a triple-riveted with large brass.
It features stain-resistant steel.
Sharp, durable, cutting edge that is hand-honed.
It has a large 8-inch blade.
Little Cook Meat Cleaver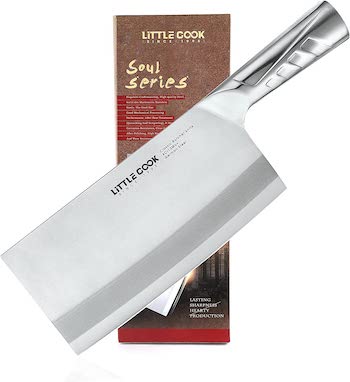 The Little Cook meat cleaver is an ideal professional and home kitchen knife because of its functionality and affordability. The 8-inch knife is made of high-quality German carbon stainless steel, ensuring durability, stain, and corrosion resistance. Its strong build also allows you to cut through chicken bones, lamb shoulders, and tough meat.
The stainless steel handle is designed to resist freezing and slipping while ensuring a firm grip. The ergonomic handle is comfortable to hold as your hands won't fatigue while holding for long. Furthermore, as a multifunctional knife, it not only cuts meat but is suitable for slicing, cutting, and chopping vegetables and fruits. It comes with a good design, a reasonable price range, and multifunctional features ideal for everyday tasks.
It is affordable and budget-friendly.
It is multifunctional.
It is durable and rust-proof.
Lux Decor Meat Cleaver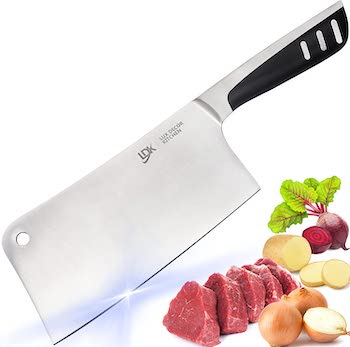 The Lux décor was designed for multifunctional cutting and chopping. Experts meticulously designed this meat cleaver to provide maximum functionality and well-balanced proportions. Its sharp and precise capability meets every heavy-duty kitchen task.
The razor-sharp blade is forged from quality high carbon stainless steel that prevents corrosion, rust, and discoloration. It has a professional edge with a 180 cutting angle to provide an excellent fatigue-free cutting experience. Also, its sturdy, lightweight, and non-slip handle help it to maintain balance for precise and smooth cutting.
It is perfect for cutting meat, fruits, and vegetables.
The 7-inch meat cleaver has a beautiful design.
It is resistant to rust and discoloration.
Tuo 7 inch Vegetable Meat Cleaver Knife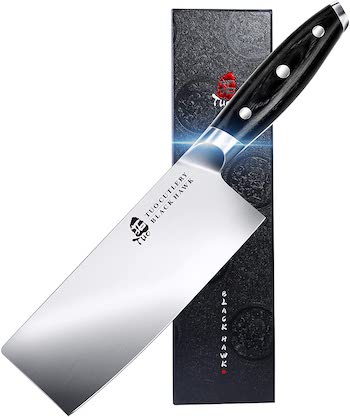 Although The Tuo 7-inch meat cleaver is one of the most affordable Chinese meat cleavers, it still retains quality. This cleaver is forged with high carbon steel, a vacuum heat treatment, and a cryogenic nitrogen tempering which confers its strength and durability. Additionally, the blade is hand sharpened with the traditional 3-step Honbazuke method and finished off with satin.
The handle is triple-riveted and designed with black Pakkawood, which complements the overall design of the knife. It is also comfortable to grip and suitable for ambidextrous use. The blade is mainly suited for cutting soft meat, vegetables, and fruits.
The knife is finely designed with quality materials.
It is multifunctional.
It is budget-friendly.
Juvale 8-inch Meat Cleaver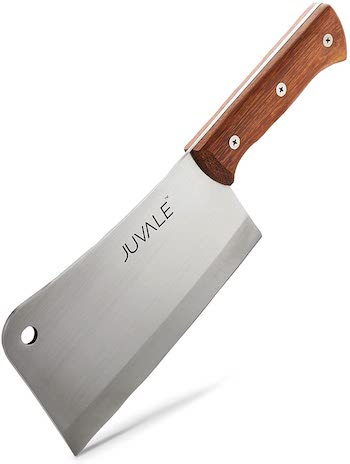 The Juvale meat cleaver is ideal for larger meat cuts mainly because it is sturdy and suitable for heavy-duty cutting. The sharp 8-inch blade is made from high-quality stainless steel and is hand polished for precise cutting. However, the Juvale meat cleaver is more suited for professional settings because it can handle large chunks of meat and hack through bones without stress.
It has a triple-riveted wooden handle that provides a firm grip while applying pressure to cut the rigid bones. Additionally, this heavy-duty knife has a hole in the top corner that enables you to hang it as a storage option.
It has a strong cutting capacity.
It has a wooden handle that provides a firm grip.
It is dishwasher safe.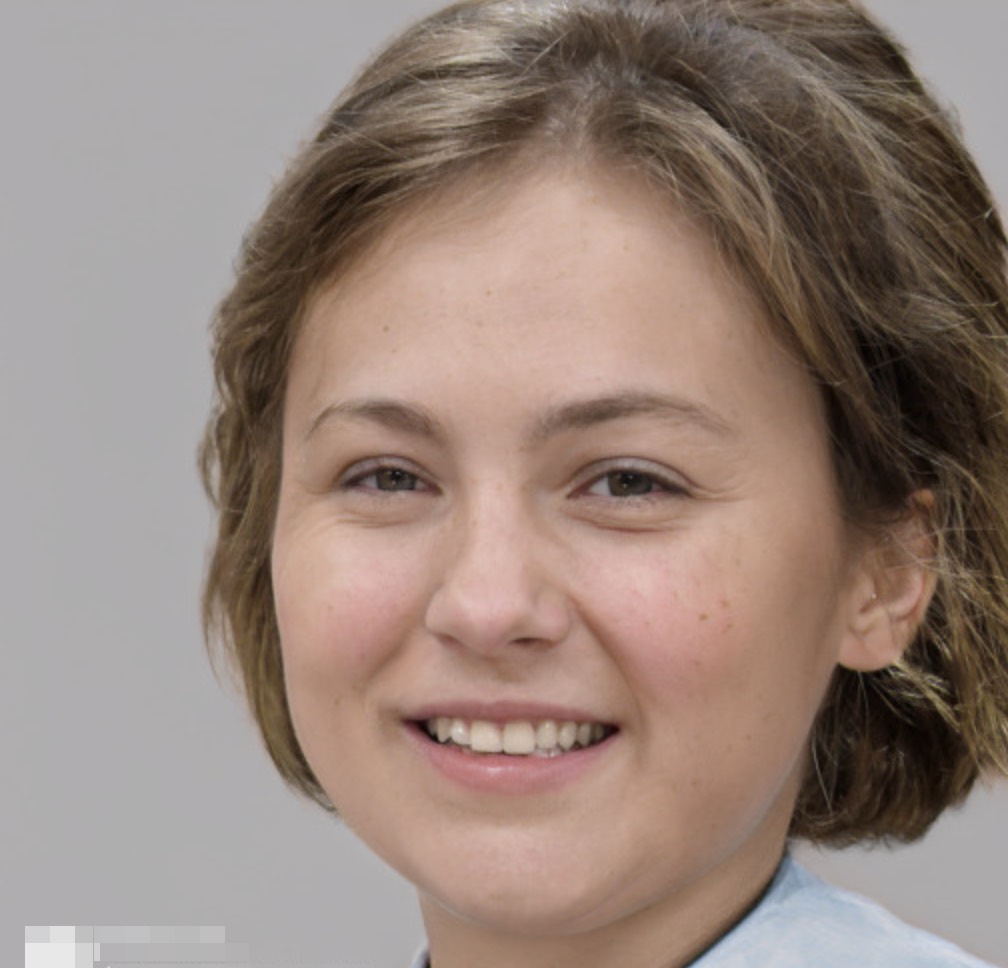 Hi, I'm Jen from New Mexico. I have been working from home as a graphic designer for a long time. While working at home, I realized that I enjoy spending time in the kitchen. The kitchen is my biggest hobby. I set up this site to relay the products and experiences I've tried. I review many kitchen equipment and share them with you!